Unicorn -- n. an imaginary animal like a horse but having a single horn
in the middle of its forehead, the hind legs of an antelope, and the tail of a lion.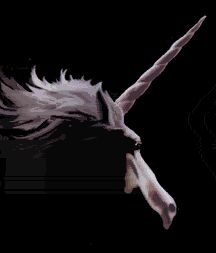 The unicorn is a legendary animal representing chastity and
purity.It would fight fiercely when captured or cornered, but it could
be tamed by a virgin's touch. The Unicorns horn, known as the
'Alicorn` is thought to have have been the purest thing in the universe
and for that reason the Unicorn was hunted for its horn, as is the
elephant today.
In medieval times, the magical power of the horn was still believed
in. A powder made from this horn was supposed to neutralize any kind of
poison, it was said to have been ground into powder and added to food and
medicine and the horn itself was said to bleed when poisoned food was
brought near it. Despite the unicorn's worldwide fame, many believe there
are no more unicorns. One reason given is that when Noah built the Ark,
the unicorns didn't make it on board, either because they were too large,
or too silly--playing games and frisking about until Noah couldn't wait any longer.

Others believe the unicorns were simply hunted into extinction.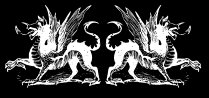 "Do you know, I always thought unicorns were fabulouse monsters, too? I never saw one alive before"...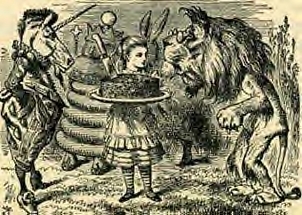 "...Well, now that we have seen each other," said the Unicorn,
"If you'll believe in me, I'll believe in you."
-- Through the Looking Glass by Lewis Carroll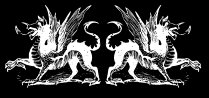 "Once, long ago, before there was such a thing as time, the world was shrouded in darkness. Then came the splendor of light, bringing life and love into the universe, and the Lord of Darkness retreated deep into the shadows of Earth,
ploting his return to power by banishing light forever. But precious light is protected, harbored in the souls of Unicorns, the most mystical of all creatures. Unicorns are safe from the Lord of Darkness, they can only be found by the purest of mortals . . The harmony of the Universe depends upon an enternal balance. Out of the struggle to maintain this balance comes the birth of Legends."
--From the movie "Legend"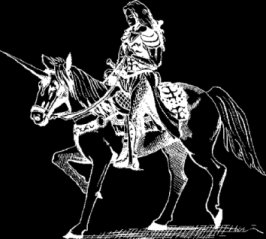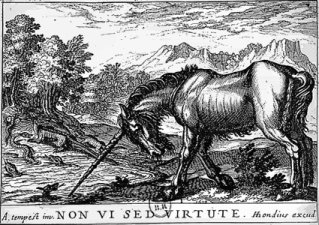 "...I can o'ersway him; for he loves to hear
That unicorns may be betray'd with trees,
And bears with glasses, elephants with holes,
Lions with toils and men with flatterers;
--William Shakespeare; Julius Caesar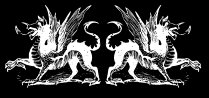 "Like a lion, without fear of the howling pack;
Like a gust of wind, ne'er trapped in a snare;
Like a lotus blossom, ne'er sprinkled by water;
Like me, like a unicorn, in solitude roam."

--Hymn of Buddha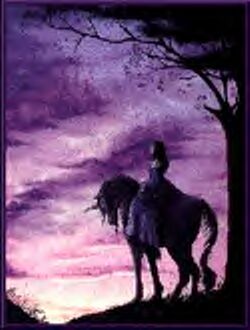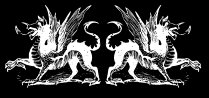 A long time ago, when the Earth was green
There was more kinds of animals than you've ever seen
They'd run around free while the Earth was being born
And the loveliest of all was the unicorn

There was green alligators and long-necked geese
Some humpty backed camels and some chimpanzees
Some cats and rats and elephants, but sure as you're born
The loveliest of all was the unicorn

The Lord seen some sinning and it gave Him pain
And He says, "Stand back, I'm going to make it rain"
He says, "Hey Noah, I'll tell you what to do
Build me a floating zoo,
and take some of those

Green alligators and long-necked geese
Some humpty backed camels and some chimpanzees
Some cats and rats and elephants, but sure as you're born
Don't you forget My unicorns

Old Noah was there to answer the call
He finished up making the ark just as the rain started to fall
He marched the animals two by two
And he called out as they came through
Hey Lord,
I've got green alligators and long-necked geese
Some humpty backed camels and some chimpanzees
Some cats and rats and elephants, but Lord, I'm so forlorn
I just can't find no unicorns"

And Noah looked out through the driving rain
Them unicorns were hiding, playing silly games
Kicking and splashing while the rain was falling
Oh, them silly unicorns

There was green alligators and long-necked geese
Some humpty backed camels and some chimpanzees
Noah cried, "Close the door because the rain is falling
And we just can't wait for no unicorns"

The ark started moving, it drifted with the tide
The unicorns looked up from the rocks and they cried
And the waters came down and sort of floated them away
That's why you never see unicorns to this very day

You'll see green alligators and long-necked geese
Some humpty backed camels and some chimpanzees
Some cats and rats and elephants, but sure as you're born
You're never gonna see no unicorns.

the irish rovers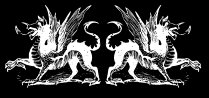 "To this day, it is said, malicious animals poison this water after sundown, so that none can thereupon drink it. But early inthe morning, as soon as the sun rises, a unicorn comes out of the ocean, dips his horn in the water to expel the venom from it so that the other animals may drink thereof during the day This as i describe it . I saw it with my own eyes
--Johannes Van Hesse Of Utrecht: 1389